Milan Fashion Week
We reflect on the menswear shows Milan
Perhaps the most spoken about brand and highlight of the men's fashion shows was Gucci. A luxury Brand that has transformed itself from, simple classic shapes and colours to very now, exciting, cool, colourful and young! In a few months, Gucci's creative director, Alessandro Michele has managed to significantly change the brand and the industry perception. The show combined the feel from the swinging 60s to the romantic 70s – lots of colour and textures, geeky glasses, flares and bags. The catwalk was vibrant and really had 100% of the viewer's attention – no more staid and caramel!
Models wore floral suits and lace shirts through to embroidered silk dressing gowns and monogrammed trench coats. The collection vibe recalled Fleetwood Mac, some pink lace here and there with hair clips. The Street Style? The local men attending the event wore suits, with statement piece glasses and accessories and well-styled hair.
The men really rocked it and no doubt the women were very impressed.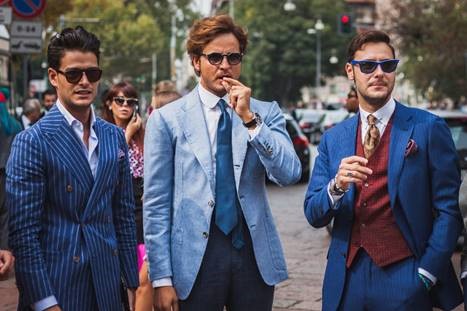 Are we really surprised with this fabulous outburst of fashion intensity? Of course not! Milan loves to be known as the 'Fashion Capital of the World' . – Reporting Talisman Fashion.